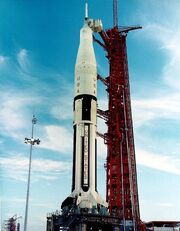 Apollo 7
(October 11-22, 1968) was the first manned mission of project apollo, and the first manned US space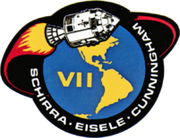 mission launched after the cabin fire which killed the crew of what was to have been the first manned mission, on January 27, 1967. It was a eleven-day Earth-orbital mission, the first manned launch of the launch vehicle Satern, and the first three-person American space mission. It flew in Earth orbit so the crew could check life-support, propulsion, and control systems. Despite tension between the crew and ground controllers, the mission was a technical success, which gave NASA the confidence to launch another space flight. However, the flight would prove to be the last space flight for all of its three crew members.
Ad blocker interference detected!
Wikia is a free-to-use site that makes money from advertising. We have a modified experience for viewers using ad blockers

Wikia is not accessible if you've made further modifications. Remove the custom ad blocker rule(s) and the page will load as expected.