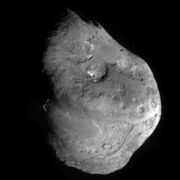 The nucleus is the solid, central part of a comet, popularly termed a dirty snowball. A cometary nucleus is composed of rock, dust, and frozen gases. When heated by the Sun, the gases sublimate and produce an atmosphere surrounding the nucleus known as the coma. The force exerted on the coma by the Sun's radiation pressure and solar wind cause an enormous tail to form, which points away from the Sun. A typical comet nucleus has an albedo of 0.04.
Ad blocker interference detected!
Wikia is a free-to-use site that makes money from advertising. We have a modified experience for viewers using ad blockers

Wikia is not accessible if you've made further modifications. Remove the custom ad blocker rule(s) and the page will load as expected.