A Quasar is a
Supermassive Black Hole
in galaxies that live in centres of Galaxies.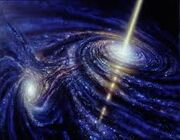 Description
These Quasars are the most distant objects in the universe that can only be seen by the most powerfull telescopes. They emit powerfull x-rays. Since the Quasar is very huge, it consumes countless tonnes of matter. Since a Black hole can only consume so much matter, it has to "throw up" the matter. All black holes are, well, black, and cannot been seen. You can only see the matter swirling upon it.
Ad blocker interference detected!
Wikia is a free-to-use site that makes money from advertising. We have a modified experience for viewers using ad blockers

Wikia is not accessible if you've made further modifications. Remove the custom ad blocker rule(s) and the page will load as expected.