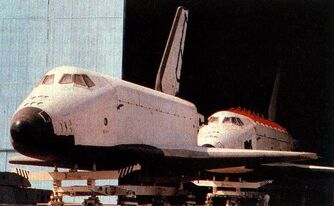 2.02 is the number of the fourth built Soviet Shuttle Buran reusable space vehicles.
In 1993, when the Soviet Space Shuttle program was stopped, 2.02 was in an early stage of construction (10-20 percent). The incomplete 2.02 was later partially dismantled at her construction site and moved to the outside of the Tushino Machine Building Plant, near Moscow.
Some of the tiles from Shuttle 2.02 were sold and auctioned on the Internet.
Ad blocker interference detected!
Wikia is a free-to-use site that makes money from advertising. We have a modified experience for viewers using ad blockers

Wikia is not accessible if you've made further modifications. Remove the custom ad blocker rule(s) and the page will load as expected.